I'm going to mention that my stomach exploded.
So before I go on, you should probably watch this. That way we can get to who I REALLY am.
(Or if you'd like to know me as a Detourist – the subject of my TEDx talk – go here!)
(What is the Great Comebacks Award? You'll read about that later.)
I know – it's not a story you hear every day. Now, back to who I AM.
I grew up believing that my entire life would be dedicated to the performing arts. Now, I'm also a survivor and "thriver" of sexual abuse, 27 surgeries, coma, organ failure, and the PTSD that comes from ten years of trauma – or what I now call my "beautiful detour" – also the title of my upcoming book.
At 18, years old, a blood clot caused my body to go into septic shock. I was in a coma for six months, and after a total gastrectomy, I was unable to eat or drink a drop of water for six of the past ten years. After 27 surgeries, I was miraculously reconnected with the intestines I had left. To persevere through those tumultuous years took great inner and outer strength – strength I didn't know I was capable of until I was tested.
I learned that the human spirit feeds off of hope, and hope is fuel we can cultivate ourselves. Ultimately, I learned that with resourcefulness, creativity, and unwavering curiosity, we can transform any adversity into personal growth and a resilience that is uniquely ours. The arts were a way for me to express whatever felt too painful and overwhelming to put into words. They also helped me process what I was feeling. But most importantly, they served to be the greatest reward acting as a medium where I could still engage with my community, reach out to others, and make a difference in this world while utilizing my passion. Arts were my way of connecting with the world, sharing my story, and spreading my message of hope, strength, and finding beauty in whatever life brings you.
Everything became possible once I was willing to intentionally wander from the life I planned and embrace this "detour" as an opportunity for discovery. This is not the life that I planned for myself – but does anyone's life ever work out exactly how they plan it?
So many gifts came out of this. I discovered painting in hospitals and flourished as a mixed media artist with solo art shows, merchandise and creativity workshops. I wrote a one-woman musical about my life, Gutless & Grateful, which I've performed in theatres across the country for three years and now take it to college campuses, conferences and support groups as a mental health awareness and sexual assault prevention program. After never having a boyfriend in my life, I tried online dating, got married, did a TEDx Talk about it, and then, when suddenly faced with divorce, I realized strength I never knew I had. And I finally started college…at 25 years old.
I was not able to fully appreciate the beauty of my detours until I was able to share them. As a performer, all I've wanted to do was give back to the world. But now I have an even greater gift to give: a story to tell.
I call myself a "thriver" as well as a "survivor". I've been through 27 surgeries, a coma, sexual abuse, a decade of medical trauma, and all of the setbacks and frustrations that go along life-altering events.
This beautiful detour has turned into the richest time of my life, and I'm overwhelmed with gratitude. Every twist and turn has made me who I am today – a bold, resilient woman with a deeper purpose.
I'm telling you my "sob-story" not to shock you or show what I've been through, but to share with you what inspired me to reach out to my world through my art, my music, my inspiration, and my passion. You'll read what you can hire me for later on. First, I want to tell you why I do what I do.
I'm a storyteller. I'm a speaker, performer, artist and writer, but ultimately, I'm here to tell stories, and to help bring out the stories that unite us all.
My life is quite bigger than a few medical adventures, actually. I've just gotten married, I wrote a one-woman show, I'm 28 and in college, I have an amazing family, and I've been to Disney World 23 times. (This is very important.)
I grew up doing musical theatre. I've always loved singing, dancing and acting – it was my way of connecting with the world.
I also had your stereotypical Jewish family where we invite a ton of people for every Jewish holiday and there is no end to the feast. I was accepted into the musical theatre program at the University of Michigan, and was on track to do musical theatre for the rest of my life, which I lived and breathed. So a week before my senior prom, it was the second night of Passover and we had a huge seder. Afterwards I was in tremendous pain – and I never get sick.

We drove the ER for an x-ray, and apparently, on the way there, my cheeks puffed up from so much internal pressure building. When I got out of the car, I collapsed, a surgeon was called, they put me out, and apparently when they cut me open, my stomach burst to the top of the operating room from so much pressure. Possibly due to a blood clot (but no one really knows for sure), my stomach literally exploded.

I'm not a doctor, but this wonderful documentary sums it up quite well.
Of course, this was 13 surgeries in. What I didn't know was that I'd spend six of the next ten years unable to eat or drink anything at all.
In spite of everything, I refused to be a victim.

Instead, I just kept going – a month after being discharged from the ICU I got the lead of Nancy in Oliver, I taught nursery school, launched my own chocolate business, learned how to paint, fell in love with mixed media as a powerful meant to tell my story, and mounted three professional art shows of my own work, learned karate, got my yoga teaching certification, starred in various musicals, wrote my autobiography, a self-help novel, and just finished my second year of college at 28 years old.
I discovered painting as a way to pass time in the hospital. It soon turned into a obsession, and my art therapy marathons were my way of connecting to myself and finding an anchor in the uncertainty.
For my art and my spirit, I was honored on the TODAY show with Kathie Lee and Hoda, a few years ago, and met David Friedman, a wonderful man and accomplished composer.
For two years, I worked with him on a concept I had always wanted to do – putting together a cabaret act. However, it turned into much more than this. Over the years without food, drink, people, or sense of isolation, I coped by journaling thousands of pages in my room.
I put those together with songs I had written, as well as known songs, and realized that this was a perfect way of telling my story. This turned into my one-woman autobiographical musical "Gutless & Grateful" that I directed, performed, and wrote.
I first did it at the Triad in NYC in October 2012 – this was my first real "coming out" to the world – the first time I had shared my story in my own words, and it inspired so many people which was the biggest reward for me. It was nominated for a Broadway World award for best cabaret debut.
A few more medical setbacks followed, and it was difficult to always keep my spirits up.
The permanent damage that my 27th surgery had done did not take away the person I've become.
With nothing to lose, I made three big decisions:
I applied to college.
In my hospital gown and IVS, I called two theatres and booked another run of "Gutless & Grateful".
And, while I've never dated in my life, I was so lonely and recovering from my surgery – I set up a dating profile on line.
Those 3 decisions changed the course of my life:
I ended up with an ostomy after my 27th surgery – and I've had quite a couple over the years. But I never knew how many other amazingly strong young, vivacious people there were out there doing amazing things – people who just "happened" to have ostomies as well. And I was honored to be the Eastern Regional Recipient of the Great Comebacks Award for being an ostomate doing courageous things. (That's what the first video was all about.)
Inspired by the healing power of stories, I turned Gutless and Grateful into a sexual assault and mental health program for students.
And then toured the country with presentations on PTSD to conferences, organizations, hospitals, and more.
I realized that we all have DETOURS in life. Whatever that may be. Everyone has a "detour" in life – something that doesn't go as we plan. And so I decided to start a campaign empowering others to thrive in the face of unexpected events…#LoveMyDetour.
I thought life had finally come together at the triumphant ending of my detour, and was thrilled to give a TEDx Talk all about life being a "Detourist…"
And then…another detour happened in my life. A detour I didn't expect. Divorce.
Life took an unexpected detour, which made me question everything at
first, but now I am starting to see all the puzzle pieces come
together, and I am truly grateful.
"They say that everything happens for a reason. But that's not always
true. Sometimes, you have to make it happen. I think
about my old life, and I miss it. I miss the simplicity and
straightforwardness of it. I look at old pictures and I miss the
innocence, the joy, the carefreeness in my eyes. I can't be 13 again
but I can be the best 27 I can. But sometimes I wonder what life
would be like if this never had happened. This is not the path that I
planned for myself – but does anyone's life ever work out exactly how
they plan it? I was led astray, and hurt, and betrayed, and
dehumanized, taken apart and put back together, but differently. But
my passion never went away. I kept my hunger alive. Now I know that
my role in life is still to be that same performer I always wanted to
be when I was 13. But now with an even greater gift to give. A story
to tell."
So why am I telling you this?
What I've been through is tough, but everyone goes through tough times. We all need a way to cope with difficulties and learn how to improvise when life surprises us.
Victor Frankl once said that suffering is relative, and I agree. We all have something to "heal" from, and nobody is less deserving of "healing" than anyone else.
I believe that healing is a positive, joyful, healthy experience, just like a snake sheds its skin. It's a natural process just as growing, evolving, learning and changing.
Through my writing, my art, my performances, original music, playwriting, my experience, I hope to show others the power within themselves. We have the power to create hope, happiness, strength.
So go on and MAKE things happen for a reason.
Creativity isn't just arts and crafts. Creativity is a way of seeing the world.
So harness the power of your own creativity and create the change you would like to see in the world (thank you Ghandi) and in YOU.
But of course, I can help you with that. I am also a motivational speaker, I perform my show anywhere from theatres, cabaret clubs, hospitals, fundraisers, support groups, conferences, and anywhere you can think of where inspiration might be needed, and I also sell my art – with more in the works. I can coach you on it too. And lead a few workshops! So there's my shameless plug.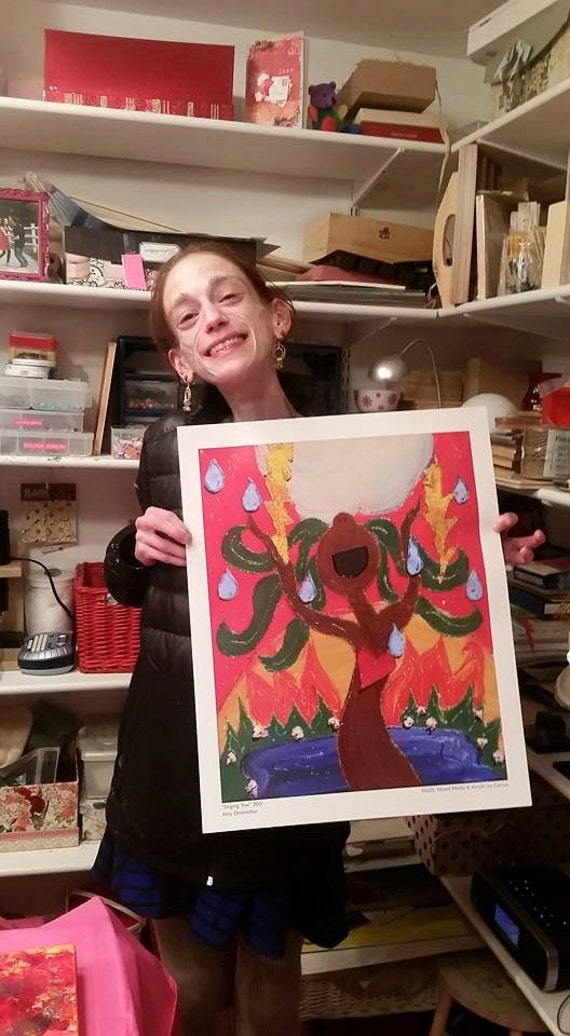 But if you really want shameless, this is pretty shameless.
So be bold, be daring, and make your detours the most beautiful detours of your life, with a bit of creativity andheART!!! (no pink towel over your head needed)
Still hungry for more? Get a free Detourist guide while you're at it…