See the post here.

The Bistro Awards: recognizing, encouraging, nurturing, and educating cabaret, jazz, and comedy artists for 30 years through our insightful reviews and our annual awards — the oldest awards of its kind in the industry.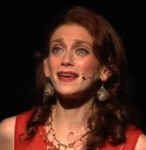 TADA! Theater
Friday March 11, 9:00 pm – learn more here.
"Gutless & Grateful"
Amy Oestreicher brings her acclaimed solo piece back to New York as part of the Emerging Artist Theatre's New Works series. You might expect that sitting through an account of sexual abuse, 27 surgeries, coma, organ failure, and a six-year inability to eat or drink would be a grim experience. But you'd be wrong—at least in the case of this uplifting and unforgettable show.
It is one part moving testament to human indomitability, the other a thoroughly satisfying evening of song. While each element is strong enough to stand on its own, combined they illuminate and enhance each other. Rarely have narration and song been so skillfully meshed, and Oestreicher's likeability, good humor, interpretive skill, and manifest commitment to what she is saying and singing make us not only understand what she's endured, but also feel it on a very deep level.
Category: Bistro Picks
The guidelines that Harrington set up for himself to determine the first winners have become the basic philosophy behind the Bistro Awards, which recognize achievement in a wide variety of categories — from outstanding performances to outstanding contributions by members of the cabaret community. The object is not to choose the "best" of anything of the year, but to recognize and congratulate the accomplishments of those who have done something special. Accordingly, categories can easily be created from year to year as they best fit the year's distinguished work.
Some of the Bistro's special honorees have included Ben Vereen (2014); Lainie Kazan, Maurice Hines, and Clint Holmes (2013); Kaye Ballard, Melissa Manchester, and Dee Dee Bridgewater (2012); Dionne Warwick and Carol Channing (2011); Mitzi Gaynor and Elaine Stritch (2010); Charles Aznavour and Liza Minnelli (2009); Marilyn Maye (2008); Betty Buckley (2007); Steve Ross (2006); as well as Cleo Laine and John Dankworth, Bobby Short, Eartha Kitt, Barbara Cook, and many others.