Before you read this…do a little happy dance!
Okay.  Now:  I want to share a video that made me cry, love, fear, learn, grow, smile and dance.
Bill T. Jones: Still / Here with Bill Moyers from BillMoyers.com on Vimeo.
Bill T. Jones, "an irreplaceable dance treasure" has created over 140 works for his own company, and for cdance companies all over the world.  This amazing documentary from 1997 is the making of the dance-theater piece, Still/Here, was the subject of a 1997 documentary by Bill Moyers and David Grubin.
"At workshops around the country, people facing life-threatening illnesses are asked to remember the highs and lows of their lives, and even imagine their own deaths. They then transform their feelings into expressive movement, which Jones incorporates into the dance performed later in the program. Jones demonstrates for Moyers the movements of his own life story — his first encounter with white people, confusion over his sexuality, his partner Arnie Zane's untimely death from AIDS, and Jones's own HIV status."  Learn more here.
This documentary was both incredibly moving and  hard for me to watch – not in a bad way, it just made me feel…deeply!  After my coma, I used dance to get back in touch with my body after my 27 surgeries.  When I put on music, I'd start feeling each note filter through my body, and suddenly it felt as though something bigger than myself was flowing through me, granting me a new life force and vitality.  I felt energy, bounciness, rhythm and flexibility where I didn't even know I had any!
Journey-Dancing
I've been using dance to heal for a very long time.  In February 2005, my mother and I did a JourneyDance workshop (which I highly recommend!)
My mother and I took a Journey-Dance workshop after I had been molested and had, at that time, been holding in that secret for months.
Healing Through Dance
I remember getting so lost in the music , like that was my escape where I could get away from everything, yet be centered in what really mattered.  Years later, my mother told me that a woman came up to her at that 2005 workshop and said, "Please watch your daughter dance.  if you look closely, She is really struggling with a very big issue and she is calling out for help – find out why she is suffering,"
A Call – or Dance – For Help
My mom didn't think anything of that woman's ominous observation at the time.  it gave me goosebumps to hear that now, because it's true, I was trying to dance out this big red ball of fire I was feeling in my gut, that I was too scared to talk about or think about myself.  But through dance, I was subconsciously screaming out the enormous secret I was withholding. You can read more about how creative expression allowed me to heal after PTSD in my article for Huffington Post: PTSD: The Illness I Couldn't See.  And you can hear about it in my TEDx Talk…
Dancing Back to My Body
After I was discharged from the hospital, I used dance and creativity as my therapy when I was too frustrated or overwhelmed to try to express my situation in words.
If you watch  the first few moments of this documentary, you will see me dancing in 2007 – I would get together with a woman once a week and she'd put together a "healing playlist" – I'd just let loose and dance through the uncertainty, dance back my inner and outer strength, and dance back my world.  You can  of see as you watch me dancing how I just found this amazing sense of release.
If you only have a minute for the Bill T Jones documentary, go to the 20 minute point.  A blonde, beautiful, soul-filled woman is dancing her "story", and everything she's saying as she passionately moves about – that's exactly how I felt as I danced through my illness.  It was a way I could come to terms with it, to befriend it, to meet it half-way.  I literally danced through my fear.
Dance Can Change the World…
…or at least the way we view it.  Have you heard of Norma Canner?  – she also did amazing work in the field of dance and movement therapy.  Find a copy of the documentary "A Time to Dance" and watch it – or comment if you're able to find a youtube link!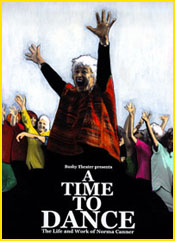 When I dance lately I find myself reaching out my arms so forcefully and frantically as if every time I grasp the air, I am imagining holding the hand of something greater than myself, and just for a moment our fingers are touching, and I can feel that larger energy in me for just a nanosecond.  And then I pull my arm back immediately  like I've just touched a hot stove.  Immediately, I've sensed the larger soul of the world, and her soul is fierce.  Sort of like the part in E.T. where the boy and E.T. are touching there fingers together – that's how I feel sometimes.  Like I am being united with a force much greater and much wiser than myself.
Why do you love dance?  
What does dance mean to you?  Do you dance to celebrate joy, to lift you out of the dumps, to celebrate, to flirt, to find, to connect?  Comment here – dancer or not – what's a song that you can't help but move your body to?
I'm obsessed with tap-dancing.  It's just an awesome excuse to stomp around 🙂
Also check out Dance Exchange: "The mission of the Dance Exchange is to create dances that arise from asking: Who gets to dance? Where is the dance happening? What is it about? Why does it matter? "
An amazing dance and life book:
Dancers and Non-Dancers alike will love the inspiring book, Dancers Among Us.  I urge you to look at the book's website for some amazing eye-candy, and the Dancers Among Us website.  I was so touched by what he was able to capture with his camera that I had to write to him to share how he had affected me, pre and post coma.  He was as blown away as I was by this crazy coincidence, and wrote about it in his blog – you can read his great article about it here.
Thank you, thank you
Jordan Matter
for inspiring all of us to find the beauty in the dance of everyday living!  You have truly discovered the dancer in all of us and the music heard 'round the world.
Ready to dance?  What's your favorite song…?
If you had to dance your "
detour"
– what would it look like?  If you don't know where to start…watch Bill T. Jones.
 I dare you not to be inspired!
And you can always subscribe for a bit more inspiration…
"I was sitting around a dead dial
Just another lost number in a file
Dancing down a dark hole
Just a-searching for a world with some soul
I just wanna hear some rhythm
I want a thousand guitars
I want pounding drums
I want a million different voices
Speaking in tongues 
I was driving through the misty rain
Just a-searching for a mystery train
Bopping through the wild blue
Trying to make a connection with you" – Bruce Springsteen
Subscribe for lots more Detourist tips, tricks and happy-dances!