It's Monday and that means another chance to Fall Into Art Journaling. Check the link for a recap, because we're all the way to week #5!
LEAVES!
Incorporate leaves into your journal – sketch, print, rub or collage, up to you!
Can't find a leave, or too lazy to go outside?  No worries.  Draw the most beautiful leaves you can imagine.  If you were an autumn tree, what leaves might you sprout?  You can learn how to draw a beautiful maple leaf here.
Can't wait to see your creations in the Facebook group!
I #lovemydetour and I wanna hear from YOU!
This week I'll be starting my Why Not Wednesdays – so any detourist who's been led astray in life – I wanna hear from you!  I gave all the latest updates in my Discover, Inspire, Create newsletter #27…
Why Hard Work Pays Off…Here's the Blogging Advice You Don't Want to Hear.
I'll be honest, it takes a bit more work than a normal "recap" newsletter.  But I enjoy the process and sharing my weekly discoveries and inspirations.
It's messages like this that make the work worthwhile:
"Good morning Amy Oestreicher Thetford, I just finished reading your newsletter and can I say your art is simply beautiful! You have great strength behind your message and your creativity is empowering!"
That was my lesson today.  Hard work can feel worthwhile – and that's what pays off.
Plus, the minute you subscribe you get some very awesome freebie inspiration…
 "Your approach is unique! That's what makes you stand out!"
I know, it takes way to much time.  But why are you blogging in the first place?  What would you like people to come away with when they read your blog?  Sharing your heart takes effort, but that's what makes the world a better place…*awwwwwww*
Good Things Take Time!
You can always subscribe now and see what everyone's yakkin' about…
Well, here was a recap from last week – #27 and goin' strong!
"The most fulfilling adventures happen when you start your journey without knowing where you're going, because only then are you free to experience the unexpected detours you're meant to take."
― A.J. Darkholme
As the autumn leaves work on changing their hues, how do we work on changing ourselves?
I've got a few ideas…
First, think about the changes you'd like to make in your life.
Number a page 1 to 10 with this heading: "Things I Wish Were Different"
Circle the things you have the power to change.  What is one tiny micro-step towards a tiny change in the right direction?
Look what you haven't circled.  You can't change everything – you're only human, right?  Let's call these your "detours" for now…
Learning to Perfect The Art of The Detour:  I #lovemydetour!
This week is not about accepting what we can't change, but loving our "stuck" times, our obstacles, our imperfections, our detours.
At AmyOes, we're learning to celebrate our beautiful detours.  Sometimes life doesn't go exactly like we plan it – but who said we had the best plan for ourselves in the first place?
"Man Plans, God Laughs"
Since the greatest teachers are ourselves and each other, I'd like you to share your detour with me and with all of us.  I'll be sharing your stories on the blog every Why Not Wednesday!
What's A detour?  
A detour is when life falls apart, surprises you, leaves you hanging, or leads you somewhere else.  When you feel like you've lost everything – including the world you"thought" you knew.
What crazy twisted path have you traveled and where has it lead you?  Tell me 10 gifts you've found on this "alternate route" that you never would have discovered otherwise.
Life's Little Detours is one of my favorite books to help me remember what gifts we can find when we're led astray.  Here are a few more of my book favorites.
Detours Make Stories Not Boring
Detours are what turn any old story into an adventure novel.  H
Here's an example: A Funny Thing Happened On The Way To The Forum is a musical (I'm a theatre geek – that's where I learn all my lessons!) completely based on detours.
The plot  I greek guy is on the way to the forum.  But then something happens…and another thing…and another thing…and BAM – that's your Tony-Award Winning Comedy!  Otherwise..who wants to see a show about a guy walking to some Greek building?
So tell me what happened "on your way to the forum"?  Share your beautiful detour with me on any social media with #LoveMyDetour!
Falling Into Art Journaling
Have trouble discovering the "gifts" of your detour?  Start by drawing it.  Sometimes drawing can get into your subconscious and make us see the gifts of our "setbacks".  Our you can join in on the latest Fall Into Art Journaling Challenge!
We're falling farther into Autumn and into our Fall Into Art Journaling Challenge.  So far we've been doodling to our autum playlists, using back to school supplies, dreaming of Fall food recipes, and to celebrate the changing leaves, we're shaking up our color palette and picking hues we'd never think of using!
Don't know where to start?  Here are Top 10 Art Journaling Prompts to get you started.  You can always just start seeing things differently through creativity before you even pick up a crayon.
It's been four years since I first picked up a paintbrush and ever since, I have art to thank for helping me see the positive in what I've been through.  I use creativity to help me transform hard times into personal growth, which I had a lovely chat about with the great guys over at the Powerful Nonsense Podcast.
This was the painting that ultimately saved my life:
You can always pick up a poster of Singing Tree in my Etsy Shop!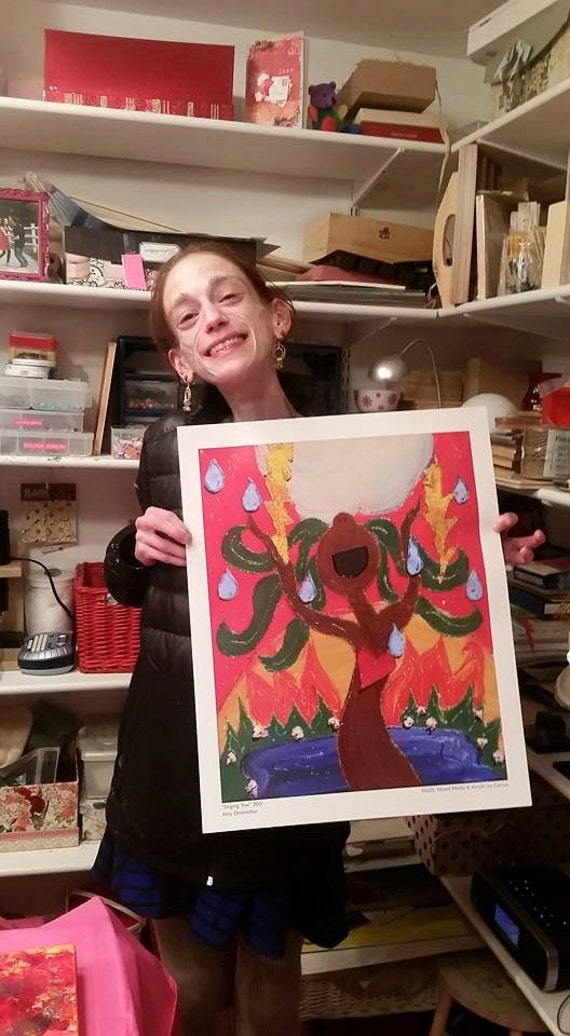 Learning to Care About YOU
Mental Health Awareness Week is going on October 4th through 20th.  How are you celebrating?  This is a week worth celebrating all year long.  Here are great ways to take care of amazing YOU, plus some helpful resources.
Mental Health may be taking care of your mind, but in order to do that, we've got to take care of the body that carries it.  I've just released a care package for those with ostomies, and a few more surprises will be showing up on my site this year!
Take It Easy on YOU
Everyone feels down sometimes.  We have good and bad days.  I'm taking my shows and workshops to college campuses across the country to help students take an empowered approach to mental health  We have all the tools we need – we just need to learn how to access them – and know that we have them!
Amy's Tip:  Create a calm space for yourself.  Clear out a room, a corner, a spot underneath a tree where you can take the time to be with you.  Or bling up the space with these awesome 100 DIY Wall Art Ideas!
My Literal Detours
Remember, it's never too late to get lost, so get traveling!  Your passion for wandering might even lead to a business! I just spoke about turning passion into business from scratch, which you can watch here.
After performing my one-woman show and leading a workshop on the power of creative expression in Kansas City, I can't wait to perform Gutless & Grateful again in Denver.  It's to benefit the Eating Foundation Recovery Center of Colorado.  If you're around, come!  If not, book me!
Before I Go…
Remember – Mental Health Awareness week ends October 10th, but that's no reason to stop being aware.  Go inside, go deep, go on a journey, go on a detour….
With love – Bon Voyage!  But don't forget to write at #lovemydetour!
Amy
"The only journey is the one within."
― Rainer Maria Rilke
So that's my weekly wrap-up.  For me, I just like giving people a glimpse into my life with lessons I learn along the way.
What do you like to get in your inbox every week?
So what are you waiting for?  Subscribe, and don't forget to tell me why YOU'RE a proud detourist at #lovemydetour…