I've been searching the Internet for weeks now, trying to pick the perfect song for the father-daughter dance at my wedding. I'm marrying the love of my life in a month and I've been swept up in dress fittings, ring shopping, house warming, and daydreaming about our future together. I'm not stressing out about the little things you hear about on wedding reality shows, like the flowers, the color of the tablecloths, but I do want the song I dance with my father to be perfect. But where to start?
I've asked my father for suggestions, but he doesn't know where to start. I want the perfect sentiment to be expressed, a three-minute snippet to show my unspeakable gratitude for my father, the most devoted, loving and hard-working man I know. I want a song that will evoke the joy he's constantly filled my life with. Every 22-hour road trip to Disneyworld, every piano recital he sat through, every karate class he carpooled me to – what kind of song can let him know I remember every small, selfless act? How will he know I remember each "dad-gram" he'd send me at summer camp, or each Turner Classic Movie he'd attempt to show me? How can one show let him know the appreciation I've kept deep in my heart but haven't always been able to share when he followed us around for hours on family vacations with a camcorder? We all hated the "paternal paparazzi" at the time, but now, my brothers and I relish every moment of our childhood caught on film.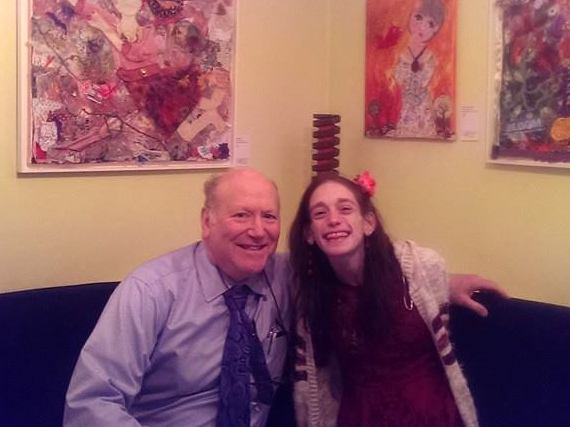 Maybe my father isn't much help with song suggestions because he too is overwhelmed with feeling. I often wonder how he feels letting go of his only girl and youngest child. I'm sure he is sentimental as he recalls his first dance with my mother more than forty years ago. He also must worry about me and how I will fare in the uncharted territory of marriage and adulthood. When I become a married woman in just under a month away, I will be closing a chapter of my life – a chapter that has been filled with unexpected medical turbulence and a bit more time spent with my parents than I had anticipated as a teen. Nobody could have predicted my coma at 18 years old and the life-altered eventsthat would unfold in the next ten years. Nobody could have warned my father that his duties as a physician would extend past his office. But without a second of hesitation, my father doubled his role as a love-filled, dedicated dad, and now a tireless hero. My father was incredible as just being a "dad". but proved himself to be instrumental in saving my life, then keeping my spirit alive.
Nobody wishes for their child to get sick, and I often think of the dual responsibilities that my father had to manage. As a physician, he understood the danger I was in as I was transported from hospital to hospital, surgery after surgery. And to this day, I still see the unwavering strength and determination in his eyes to make sure nothing prevents me from living the health-filled limitless and vibrant life I deserve. Growing up, it was making the 22-hour drive to Disneyworld every year, teaching me how to ski by making "pizza-wedged" shapes with my heels, or taking me to Yankee games even though I still can't figure out the game. When I was stuck in hospitals for months, when he wasn't trying to analyze my latest blood work with the nurses on call, he was taking me for wild and crazy wheel chair rides, rubbing my feet to ease the neuropathy, or reading to me by my bedside. And now I just want to repay him with the perfect song.
The wedding is in less than a month and the band and I still don't have a song in mind. But perhaps it's not the song that is so important. As a daughter, I want to show him that I love him, even when I lose my patience, or rush by him, or forget to thank him for every little act of kindness he's shown me since I could say the word "dad." I want to make my father proud, to give him the confidence that I will make a wonderful wife, the faith that I will thrive living on my own, swept away by the new man in my dreams. I want the song to show that although my fiancé is the love of my life, my father will always have my heart.
I'm still waiting for the song to come to me. All I want is to show my dad how unconditional my love is – whether it's the bratty little girl he raised, the moody teen, the busy bee, the out-and-about woman, the me that is hard to reach sometimes…
…But that's the thing about fathers, I think. They always know. Whatever the song, whatever the mood, my father knows how much I love him. I just want him to know that I know it too!
I'm searching all over the internet still, and I'm lost in the pages and pages that that come up with "father-daughter wedding song." But with my heart in the right place, I hear the music already.
Update: I'm divorced now…but my father will always be the best man in my life!
Amy Oestreicher is a PTSD peer-to-peer specialist, artist, author, writer for Huffington Post, speaker for TEDx and RAINN, health advocate, survivor, award-winning actress, and playwright, sharing the lessons learned from trauma through her writing, mixed media art, performance and inspirational speaking.  As the creator of  "Gutless & Grateful," her BroadwayWorld-nominated one-woman autobiographical musical, she's toured theatres nationwide, along with a program combining mental health advocacy, sexual assault awareness  and Broadway Theatre for college campuses and international conferences.  Her original, full-length drama, Imprints, premiered at the NYC Producer's Club in May 2016, exploring how trauma affects the family as well as the individual.  To celebrate her own "beautiful detour", Amy created the #LoveMyDetour campaign, to help others cope in the face of unexpected events.  "Detourism" is also the subject of her TEDx and upcoming book, My Beautiful Detour, available December 2017.  As Eastern Regional Recipient of Convatec's Great Comebacks Award, she's spoken to hundreds of healthcare professionals at national WOCN conferences, and her presentations on diversity, leadership and trauma have been featured at National Mental Health America Conference, New England Educational Opportunity Association's 40 Anniversary Conference, and have been keynotes at the Pacific Rim Conference of Diversity and Disability in Hawaii, the Eating Recovery Foundation First Annual Benefit in Colorado.  She's contributed to over 70 notable online and print publications, and her story has appeared on NBC's TODAY, CBS, Cosmopolitan, among others.    Learn more: amyoes.com and support her work at patreon.com/amyo.